PSEB 12th Class Physical Education Practical Kho-Kho
Kho Kho Game History
The existence of the game can be traced long back in the state of Maharashtra. It was one of the most popular traditional sport in India.
Earlier during prehistoric period it was played on 'raths' or 'chariots' and was called Rathera. The basic idea of the game was to 'Run and Chase.' The first National Kho- Kho Championship was organized in the year 1960. The Kho-Kho Federation of India (KKFI) came into existence in 1960. Kho- Kho was a part of Berlin Olympic Games in 1936 as a demonstration sport.

Kho Kho Game Important Points
Type of Sport: Team Sport
Size of Field: 27 m (length) x 16 m (Width)
Height of the Posts: 1.2Ocm-1.25cm
Circumference of Post: 30-40 cm
Number of Cross Lane: 08
Measurement of Cross Lane: 16m x 30cm
Length and Width of Centre Lane:23.50 m x 30 cm
Number of Innings:02
Duration of each Inning 7-2-7 (5) 7-2-7 (Sub Junior)9-5-9 (9) 9-5-9 (Senior & Junior),
Number of Players Total = 12 (9 + 3): 9 on the field (3 Extra)
Distance from Pole to Endline: 1.50m

Kho Kho Game Rules And Regulations
1. An inning consists of nine minutes chasing and nine minutes for defending. Eight members of chasing team sit on the squares facing in an alternating direction.
2. The ninth member called chaser or active chaser shall stand at either posts to start the chase.
3. The defender or runner try to avoid being touched by the chaser for maximum duration within the play field.
4. In order to catch the runner or defender, the chasing team member, continue to tap on the back of sitting member with hand and saying "kho" loudly.
5. The team taking lesser time to catch maximum members of opponent team shall be declared winner of the game.
6. It is mendatory to give loud and clear 'kho' to a sitting chaser.
7. Once an active chaser has taken a direction towards one pole, he shall not move to opposite direction, unless he turns or touches the posts or posts line.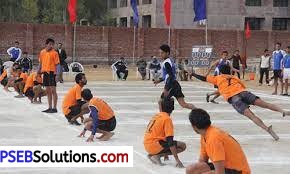 8. 1f the points of chasing teams exceeds the points of opponent's team by six or more the chasing team may call for "follow on".
9. Substitution for the chasing team is done by re free on the request of coach.
10. The substitution for runner is allowed only before the start of defence.

Kho Kho Game Important Tourminalogies
Runner: The defenders moving within the field's boundaries to avoid being touched by chaser are called runners.
Chaser: The eight members of the team sitting in a crouch position in the squares at central lane of the field are called chasers.
Innings: An inning consists of chasing and running turns of 9 minute duration for each team.
Cross Lane: Each rectangle having measurement of 35 cm in width, that intersects the central line at 90c angle is called cross lane.
Follow On: If alter completing first inning, the points of chasing team exceeds by six or more, the former side shall have the option for later side to follow on.
Active Chaser: An active chaser is the ninth member taking a hold of either posts to knock out an opponent.
Diving: The dive is a horizontal flight or jump by an active chaser to catch a runner at his closest proximity.


Skills:
1. Running Skills:
Running skills requires lots of endurance, speed and agility to spend maximum time on the field. It includes long steps running. agility zig-zag running skills etc.
2. Chasing Skills:
Chasing skills includes the way of giving 'kho' to the player sitting in blocks with loud and clear voice. It includes running with long steps for a runner at a distance and continuous kho for a runner is a close priority. Further, it can be explained as follow:
(i) Diving: If a chaser feels that the runner is very close to him, can be caught with the horizontal flight. It is mainly a horizontal jump towards runner.
(ii) Thrning at Pole:
It needs a specific training to learn this skill, to turn around the pole. In this one hand is used to hold the pole and another hand is extented over the pole to catch the runner.
3. Dodging: Dodging is particularly a movement that is least expected by the catcher. It is the sudden change of the direction by the runner

Kho Kho Game Important Tournaments
National Championship: First National held at Vijayawada in 1960.
Federation Cup
Nehru Gold Cup
All India Intervarsity Championship
National School Championship.
Arjuna Award Winners:
S.B. Parab-1970
A. Suberao Devre-1971
B.H. Parekh-1973
N. C. Sarolkar-1974
RJ. Inamdar, Usha Vasant Nagarkar-1975
SR. Dharwardkar-1976
H.M. Takalkar, Ms. Sushma Soalkar-1981
Veena Narayan Parab-1983
S. Prakash-1984
S.B. Kulkarni, Surekha-1985
Shobha Narayana-1999

Kho Kho Game Important Questions
Question 1.
What is the dimension of Kho-Kho field?
Answer:
The length of a kho-kho field is 29 m and width is 16 m.
Question 2.
What is the total number of squares in kho-kho field?
Answer:
There are 8 squares of 30 cm x 30 cm in the kho-kho field.
Question 3.
What do you mean by cross lane?
Answer:
This is the exact place where the chaser sits in a crouch position.
Question 4.
What is follow on in kho-kho?
Answer:
If after competing first inning, the points of chasing team exceeds by six or more, the former side shall have the option for later side to follow on.

Question 5.
What is an inning?
Answer:
An inning consists of chasing and running turns of 9 minutes duration for each team.
Question 6.
What is the circumference of post?
Answer:
The circumference of post is 30-40 cm.
Question 7.
How many players consists a kho-kho team?
Answer:
Nine players on the field and 3 substitutes.

Question 8.
What is the distance from pole to end line?
Answer:
1.50 m.
Punjab State Board PSEB 12th Class Physical Education Book Solutions 12th Class Physical Education Practical Kho-Kho Important Notes, Questions and Answers.