Punjab State Board PSEB 11th Class Biology Important Questions Chapter 2 Biological Classification Important Questions and Answers.
PSEB 11th Class Biology Important Questions Chapter 2 Biological Classification
Very short answer type questions
Question 1.
Name the organisms living in salty areas. [NCERT Exemplar]
Answer:
Halophiles live in habitats having high salinity and high light intensity.
Question 2.
Name the kingdom under which cyanobacteria have been classified.
Answer:
Cyanobacteria are prokaryotic organisms belong to kingdom – Monera.

Question 3.
What is the principle underlying the use of cyanobacteria in agricultural fields for crop improvement? [NCERT Exemplar]
Answer:
Some cyanobacteria live in mutually beneficial relationship with plants, obtaining food and shelter and fixing nitrogen for the plant. They also reduce soil alkalinity and improve soil texture.
Question 4.
Are chemosynthetic bacteria autotrophic or heterotrophic? [IMCERT Exemplar]
Answer:
Chemosynthetic bacteria are- autotrophs because they are able to synthesize their food from inorganic raw material with the help of energy obtained from chemical reaction.
Question 5.
Fusion of two gametes which are dissimilar in size is termed as. [NCERT Exemplar]
Answer:
Anisogamy, it occurs in Ceratium a dinoflagellate.
Question 6.
Why are cysts formed in protistans?
Answer:
Cysts formation helps to over come unfavourable condition.

Question 7.
What kind of nutrition occurs in a parasite?
Answer:
Parasites have phagotrophic and absorptive type of nutrition.
Question 8.
An association between roots of higher plants and fungi is called.
Answer:
Mycorrhiza is a symbiotic association between a fungus and the root of a plant. Mycorrhiza does not penetrate deep but remains in the superficial layers of the soil.
Question 9.
How the saprotrophic Basidiomycetes are able to decompose plant matter?
Answer:
The saprotrophic Basidiomycetes can decompose plant matter because they have enzymes for metabolising both cellulose and lignin.
Question 10.
Which are the most advanced group of fungi?
Answer:
Basidiomycetes.
Question 11.
What is capsid and how it is useful for viruses?
Answer:
Capsid is a proteinaceous covering around the virus. It protects the nucleoid from damage from physical and chemical agents.

Question 12.
Which enzyme is present in bacteriophages?
Answer:
Lysozyme is present in the region that comes in contact with host cell.
Short answer type questions
Question 1.
Write five beneficial usage or effects of bacteria.
Answer:
(a) Curdling of milk
(b) Lactobacillus is an important commensal in the gut flora of humans.
(c) Penicillin antibiotics are prepared by bacteria.
(d) Bacteria is a good decomposer, so it assists in completing the energy cycle.
(e) Rhizobium bacteria helps in nitrogen fixation.
Question 2.
What is the role of methanogens?
Answer:
Methanogens are a type of bacteria which live in the gut of ruminating animals. They assist those animals in digestion and the byproduct of that digestive process is methane. More number of livestock population results in increased methane level in the environment leading to global warming. So, indirectly methanogens can be responsible for global warming.
Question 3.
Cyanobacteria plays a major role in our ecology. Discuss.
Answer:
Cyanobacteria, also known as 'blue-green algae' help in carbon fixation in a major way on the ocean surface. They are helpful in nitrogen fixation in paddy fields leading to a better harvest. About 80% of photosynthesis on ocean surface is done by cyanobacteria. So, it can be said that they play a major role in our ecology.
Question 4.
Give a diagrammatic representation of classification of Protista.
Answer: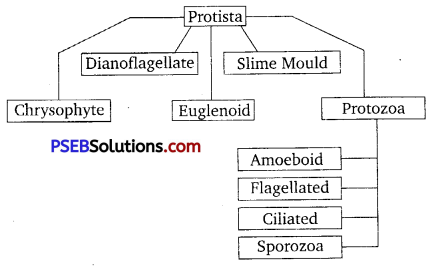 Long answer type questions
Question 1.
Answer the following:
(i) A poisonous mushroom having white spores
(ii) Edible Basidiomycetes
(iii) Used in brewing industry
(iv) It is searched by trained pets
(v) Root like, cards like hyphal masses having a distinct growing point.
(vi) Non-motile meiospores develop in Basidiomycetes
(vii) Compact groups of hyphal produced to overcome unfavourable conditions.
Answer:
(i) toadstools
(ii) mushrooms and young pufballs
(iii) brewer's yeast Saccharomyces cerevisiae
(iv) Truffles (tuber like underground fungus)
(v) Rhizomorphs perennate during periods of scarcity of food and water.
(vi) Basidiospores (develop exogenously)
(vii) Sclerotia under favourable conditions each one forms a new mycelium.