Punjab State Board PSEB 9th Class Computer Book Solutions Chapter 7 E-Governance Textbook Exercise Questions and Answers.
PSEB Solutions for Class 9 Computer Science Chapter 7 E-Governance
Computer Guide for Class 9 PSEB E-Governance Textbook Questions and Answers
1. Fill in the Blanks
1. G2C stands for ……………
(a) Government to cooperation
(b) Grievances to cooperation
(c) Government to citizen
(d) None of these
Answer:
(c) Government to citizen
2. G2G stands for …………………
(a) Government to Government
(b) Get to Go
(c) Gather to Go
(d) None of these
Answer:
(a) Government to Government
3. G2E stands for ……………..
(a) Grievance to employee
(b) Government to an employee
(c) Government to environment
(d) None of these
Answer:
(b) Government to an employee
4. G2B stands for ……………..
(a) Government to Banks
(b) Government to Businessmen
(c) Government to Business
(d) None of these
Answer:
(b) Government to Businessmen
5. IRCTC stands for ………………..
(a) Indian Railway Catering and Tourism Cooperation ltd.
(b) Indian Runway Catering and tourism Cooperation ltd.
(c) Indian Railway Catering and travelling Cooperation ltd.
(d) Indian Railway Cargo and tourism Cooperation ltd
Answer:
(a) Indian Railway Catering and Tourism Cooperation ltd.

2. Short Answer Type Questions
Question 1.
What is E-governance?
Answer:
Governance is a framework that is developed with a combination of man and machine. The implementation of any e-governance services requires advanced technology infrastructure like web-based applications that require a dedicated server and user-friendly web interface.
Question 2.
What are the two main objectives of e-governance?
Answer:
1. To satisfactorily fulfil the public's needs and expectations by simplifying their interaction with various online services.
2. To facilitate a speedy, transparent, accountable, efficient and effective process for performing government administration activities.
Question 3.
Write the area of E-governance in urban.
Answer:
The area of E-Governance in urban are in transportation, railway, Information and public relation key services, roads and traffic management etc.
Question 4.
Write the area of E-governance in rural.
Answer:
E-Governance in rural areas are in the field of Agriculture, Local information, Disaster management, Land record management and Panchayat etc.
3. Long Answer Type Questions
Question 1.
Write the main characteristics of Good Governance.
Answer:
1. Good governance is transparent which means that people are able to clearly see how and why a decision was made.
2. Good governance follows the rule of law.
3. Good governance is responsive which means that government always tries to serve the needs of the entire community timely and appropriately.
Question 2.
Explain the four pillars of E-Governance.
Answer:
Fundamentally, e-Government projects would stand on four key pillars – People, Process, Technology and Resource (PPTR), Figure below. Each of the components needs to be addressed carefully and in a holistic manner, to achieve the desired results of the project, figure below :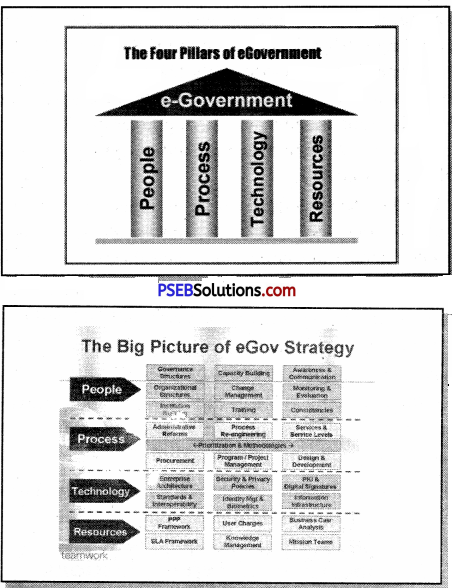 1. PEOPLE: As e-government projects are rolled out across the country people within and outside the government will play an increasingly important role in ensuring the success of these projects. The scale of transformation is huge and enormous resources not only in terms of money but also the expertise, skills and commitment of the people will be required.
2. PROCESS: E-Government is not just about the automation of manual records and existing processes, with all their inefficiencies. Rather, it is about transforming government processes and creating new relationships between the government and its citizens and businesses. Hence, a fresh set of process parameters and related workflow should be created, without creating unmanageable and chaotic changes, to maintain the consistency and sustainability of the process.
3. TECHNOLOGY: The Technology Challenges relate to lack of overall architecture and a road map for e-Government, lack of standards, poor IT Infrastructure, especially the poor communication networks, and, above all, adoption of the hardware approach rather than service-approach in the design and implementation of e-Gov projects. These challenges, if not addressed adequately and in time, result in an ad-hoc approach to e-Gov implementation. A few projects get implemented in isolation with big questions on their sustainability and scalability.
4. RESOURCES: New technologies demand new types of implementation models. Adopting conventional procurement methods would not take us far on the path of e-government. In the conventional approach, the project ownership lies with the public sector itself along with the responsibility for funding it and bearing the entire risk.

Question 3.
Explain the four models of e-governance.
Answer:
The followings are the four models of e-governance :
1. Government to citizens (G2C)
This model of e-governance refers to the government services which are shared by citizens. In this model, citizens visit the links of services that they want to use. This model strengthens the bond between the government and its citizen. Type of services which are provided by this model includes:-
Payment of online bills such as electricity, water, telephone bills, etc.
Online registration of applications.
Copies of land record.
Online filling of complaints.
Availability of any kind of online information.
2. Government to government (G2G)
This model refers to the services which are shared between the governments. There is lots of information that need to be shared between various government agencies, department and organizations. These types of services or information areas :
Sharing of information between police departments of various states.
Government document exchange which includes preparation, approval, distribution, and storage of all governmental documents, is also done through e-governance.
Most of the finance and budget works are also done through e-governance.
3. Government to businessmen (G2B)
Through this model, the bond between the private sector and the government is strengthened. It is used by businessmen to communicate to the government. Type of services which are provided by this model includes:-
Rejection and approval of patent are done by this model.
Payment of all kinds of bills and penalties.
Sharing of all kinds of information, rules, and data.
Complaints or any kind of dissatisfaction can be shown by this.
4. Government to employees (G2E)
This model increases the transparency between the government and its employee. Here, employees can keep a check on the functioning and working of the government and the government can keep track of its employees. Information that can be shared by this model:
All kinds of data submission (attendance record, employee record, etc.) from various government offices is done by this model.
An employee can file all kinds of complaints and dissatisfaction with this model.
All kinds of rules- regulations,s, and information for employees can be shared by this.
Question 4.
Write about E-GOVERNANCE IN HEALTH and EDUCATION.
Answer:
E-Governance provides many services in the health sector also. With the help of EGovemance, people can online check the availability of medicines, health camps, and other facilities. The following are the projects under the health area are Hospital OPD Appointment: It is the system of welfare measures started by the Chandigarh Government to make the life of citizens simpler and comfortable. HEALING: This project is started by the Kerala Government for Medical Health and Family Welfare Department,
E-Governance in the education sector is helpful in providing basic education and education facilities to children. Its aim is to provide computer education to children and online results for various classes. The following are the projects under the education field are Online Scholarship Management System: Its purpose is the distribution of scholarships and fees among brilliant and needy students. AISES (All India School Education Survey): The aim of this project is to survey the number of schools in the district which helps in the Census. This project was started by Assam Government.

Question 5.
Describe the history and development of E-governance.
Answer:
Among developing countries, India has been an early adopter of e-governance. The first wave can be considered to have evolved bottom-up. Some social entrepreneurs convinced district-level officials of the wonders of new ICTs, especially in providing convergent services to remote areas and improving transparency and oversight in this regard. The Gyandoot project in Dhar district, which begun in 2000, is considered the forerunner of what was to be a rash. of projects that built a front-end in many village communities which were supposed to be serviced by a back-end mostly in the district collectorate. The idea and the effort were to create pressure from the community front-end for the digitization of back-end departmental processes.
The latter was largely a localized effort, mostly dependent on the initiative and energy of the concerned district collector, often with some very spirited support of the district National Informatics Centre (NIC) staff. Perhaps the most organized and successful effort in this first phase of e-governance in India, roughly between 2000-05, was Rural e-Seva in the West Godavari district of Andhra Pradesh. As for community-level front-end development two initiatives, N-Logue and Drishti stand out, each of which at one time claimed to be running thousands of community telecentres across the country that could deliver e-governance services.
There is a general tendency to classify these early efforts as failures. Indeed, around 2005-06, N-Logue closed down and Drishti moved out of e-governance services. Rural e-Seva also was never scaled up. However, what is noteworthy is that in a relatively short time, these early projects created a lasting impression of new ICTs as a possible means to bring governance close to the people, and perhaps, also make it more transparent and accountable. To that extent, they had a very significant impact,
even if these initiatives themselves could not survive, due to a variety of reasons which we cannot discuss in greater detail, here. (However, if we compare this situation with the burst of the dot-com bubble in the early part of the last decade, one can see some common factors.) They created the context for the very ambitious National E-Governance Plan (NeGP), especially its flagship project, the Common Service Centres, which was inaugurated by the Government of India in 2006.
PSEB 9th Class Computer Guide E-Governance Important Questions and Answers
Fill in the blanks
1. ………………… means the government to employees.
(a) G2L
(b) G2G
(c) G2E
(d) G2B
Answer:
(c) G2E
2. E-governance has ………………… main objectives.
(a) 2
(b) 3
(c) 4
(d) 5
Answer:
(a) 2
3. ………………….. do work of e-governance in urban areas.
(a) Transportation
(b) Municipal Corporation
(c) Road Safety
(d) All of above
Answer:
(b) Municipal Corporation
4. ………………….. do work of e-governance in a rural areas.
(a) Health
(b) Panchayat
(c) Agriculture
(d) Municipal Corporation
Answer:
(b) Panchayat
True or False
1. E-governance do not work in education.
Answer:
False
2. E-governance has four models.
Answer:
True

Short Answer Type Questions
Question 1.
What is e-Government?
Answer:
The term e-Government is understood differently across the world. E- Govemment or Electronic Government is the delivery of more convenient, customer-oriented, and cost-effective public services and sharing of information through electronic media. Specifically, e-Government harnesses information and communication technologies (such as Wide Area Networks, the Internet, and mobile computing) to transform relations with citizens, businesses, and other arms of government.
Question 2.
What is the difference between e-Government and e-Governance?
Answer:
E-Govemment is the transformation of internal and external public sector relationships, through Information and Communications Technology (ICT) in order to optimize government service delivery and citizen participation. Digital society is a society or community that is well advanced in the adoption and integration of digital technology into daily life at home, work and play. E-Governance is the development, deployment, and enforcement of the policies, laws, and regulations necessary to support the functioning of a Knowledge Society as well as of e-Government.
Question 3.
What are the objectives of e-Governance?
Answer:
The strategic objective of e-Governance is to support and simplify governance for government, citizens, and businesses. The use of ICT can connect all three parties and support processes and activities. Other objectives are to make government administration more transparent, speedy and accountable while addressing the society's needs and expectations through efficient public services and effective interaction between the people, businesses and government.
Question 4.
what are the benefits of e-Governance?
Answer:
E-Governance offers many benefits and advantages for the government, corporate sector and society. E-Governance facilitates better delivery of government services to citizens, improved interactions with business and industry, citizen empowerment through access to information, or more efficient government management. It simplifies internal operations and improves the performance of government departments while helping all sections of society to avail government services at lower cost with maximum ease of use.
Long Answer Type Questions
Question 1.
List the various services of E-governance for urban.
Ans. The followings are the various services of e-governances for urban :
1. Transportation: There are many services which are provided by e-governance in transportation like provision of booking facility of interstate transport, plans for regional transportation, time table of buses and transportation improvement program etc. The following are the projects under e-governance in transportation such as:OSRTC- The Orissa State Road Transport Corporation project was started to provide online facilities in the transportation department.HRTC- The Himachal Road Transport Corporation project provides many facilities like online booking, availability and cancellation of seats and buses etc.
2. Online payment of bills and taxes: E-Governance also provides online transactions,payment of bills, EMIs and taxes etc. The project under e-governance in online payment is FRIENDS which is started by Kerala Government to make onlinepayments of fees, water and electricity bills etc.
3. Municipal services: The services provided by municipal sector are house taxes, issuethe death certificates, maintain records of property and approval for site plans etc.The following are the projects under municipal services are:SDO Suite: This project was started by Assam Government. It provides manyfacilities by issuing certificates like permission for land sale, birth and death reportetc.
4. Rural Digital Services: It gives many social security services such as old agepension, widow and freedom fighter pension.
5. Roads and. traffic management: The services provided by road and trafficmanagement are construction and maintenance of roads, traffic management andpollution control schemes. The project under e-govemance in road and trafficmanagement is CFST (Citizen Friendly Services of Transport) which is started by Andhra Pradesh Government. It checks the pollution control level, road safety andsafety of people. '
Question 2.
List the various services of E-governance for rural.
Answer:
The followings are the various services of e-governances for rural:
1. Agriculture: The farmers rely on the information provided by the govemmentthrough e-governance. Governments are working on many projects used in agriculture like MARKET which is approved by the Department of Marketing and inspection (DMI), Ministry of Agriculture and Government of India. '
2. Local information: Government provides many local information such as prices of seeds, loan rates etc. The project under e-governance in local information is EJanSamparkwhich is started by Chandigarh Government to help people access the local information in their locality to fulfil their needs.
3. Land record management: With the help of this management, huge number of land records can be maintained in a very small time. The following are the projects under land record management are : Bhooftii: It was started by Karnataka Government and known as the first E-Governanceland records management projects.Land Records Management System State Government of Punjab.
4. Panchayat: Panchayat provides many services such as issuing the birth and death certificates, various schemes for poor people and water supply and sanitation etc.
Question 3.
List the various E-Governance Services from Government To Government.
Answer:
E-Governance Services from Government to Government (G2G): It is also known as E-Administration. In this model, services are being shared between many governments. Information are shared among various government agencies, organizations and departments. The following arethe services discussed in the G2G model:
E-Secretariat: E-Secretariat provides huge, valuable and functional information of the state. In E-Secretariat,multiple departments are linked together on internet and exchange the information of various components. Italso links all the governmental departments with their headquarters and state capitals. .
E-Police: E-Police helps everyone to feel safe and secure. For this purpose, E- Police maintain two databases.First database is of police personnel which provide records (current and previous posting etc.) of persons working in police. This database helps people to find the specialization of policemen according to geographical regions and skills. Second database is of criminal records. This database provides full detail of any criminal byjust typing the name of criminal. This database also provide the past activities and area of operation of anycriminal.
E-Court: E-Court will bring a revolution in the Indian pending court cases. In India, there are a number of pending cases that produce frustration in people and will bring the system to a halt. Both consumers and the system need the change. If the system w3ill work in the same manner in future, than one day it will collapse. In E- Court, IT transforms the system into databases of cases having zero level dependency. In such systems, Judges can consider the appeals from intranet, give their decisions online by considering recorded facts of case and reduce the backlog of cases.
The success of G2G model is based on some important aspects like expenditure, the establishment of the network, planning, monitoring and controlling the performance of process resources like human and financial.

Question 4.
What are the various stages of E-governance?
Answer:
Stages of e-Governance :
It is apparent in various research studies that e-Governance is fundamentally linked with the development of computer technology, networking of computers and communication systems. In developing nations, such technologies and systems became available with an observable time lag as compared to developed nations. When appraising the e-governance model in India, it is established that with the liberalization of the economy from the early 1990s onwards, there has been a convergence in the availability of progressive technologies and opportunities in this field. The inception of e-Governance proceeded through four stages in India.
1. Computerization: In the first stage, with the availability of personal computers, the majority of Government offices are well equipped with computers. The use of computers begem with word processing, quickly followed by data processing.
2. Networking: In this stage, some units of a few government organizations are connected through a hub leading to sharing of information and flow of data between different government entities.
3. On-line presence: In the third stage, with increasing internet connectivity, a need was felt for maintaining a presence on the web. This resulted in the maintenance of websites by government departments and other entities. Generally, these web pages/websites contained information about the organizational structure, contact details, reports and publications, objectives and vision statements of the respective government entities.
4. On-line interactivity: A natural significance of online presence was opening up of communication channels between government entities and the citizens, civil society organizations etc. The main objective of this stage was to lessen the scope of personal interface with government entities by providing downloadable Forms, Instructions, Acts, and Rules.