Punjab State Board PSEB 5th Class English Book Solutions Chapter 3 Child and Grandma Textbook Exercise Questions and Answers.
PSEB Solutions for Class 5 English Chapter 3 Child and Grandma
I. Let's Answer
(A) Answer the following questions:
Question 1.
What kind of skin does the grandmother have ?
(दादी माँ की चमड़ी (त्वचा) कैसी है ?)
Answer:
The grandmother has wrinkled skin.

Question 2.
What does the child see in the sky ?
(बच्चा आकाश में क्या देखता है?)
Answer:
The child sees bird like machines in the sky.
Question 3.
Who are alike ?
(एक जैसे कौन हैं ?)
Answer:
The grandmother and the child are alike.
Question 4.
For how long do they want to stay together ?
(वे कब तक एक साथ रहना चाहते हैं ?)
Answer:
They want to stay together forever and evermore.
(B) Complete the following sentences:
1. Giants make ……………….. moves.
2. ……………….. have no eyes.
3. The big world is compared to an …………..
4. Grandmother and the child think ………….
5. They ……………….. each other.
Answer:
1.swift
2. Machines
3. alien
4. alike
5. smile and hug
(C) write rhyming words from the poem:
Sky – Spy
Skin – Kin
I – Sigh
II. Vocabulary
(A) Categorize the food items you like to eat in your meals:
bread, rice, milk, salad, juice, fruit, curd, tea, butter, chapati, butter milk, cooked vegetables, sandwich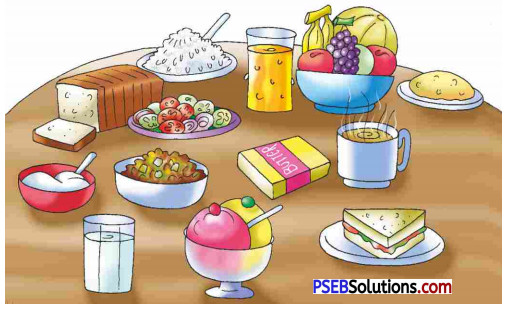 Breakfast
bread
butter
sandwich
juice
fruits
milk/tea
Lunch
chapati
cooked vegetables
rice
salad
curd
butter milk
Dinner
………….
………….
………….
………….
………….
…………..
नोट-Lunch की अधिकतर food items dinner में भी खाई जाती हैं, जैसे rice, chapati, cooked vegetables.

(B) Compound words
Match the following words and write the compound words in the space given below: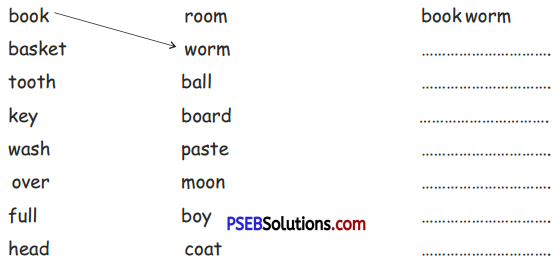 Answer:


(C) Homophones
Two or more words having the same pronunciation but different meanings or spellings or both.
sail (नाव चलाना)
sale (बिक्री)
cell (जेल की कोठरी)
sell (बेचना)
four (चार).
fore (आगे वाला)
two (दो)
to (की ओर)
week (सप्ताह)
weak (कमज़ोर)
hear (सुनना)
here (यहां)
in (में)
inn (सराय)
heel (एड़ी)
heal (स्वस्थ होना)
been (बीता हुआ)
bean (फली)
hour (घंटा)
our (हमारा)
meat (मीट, मांस)
meet (मिलना)
mail (डाक)
male (नर)
tail (पूंछ)
tale (कहानी)
buy (खरीदना)
by (के द्वारा)
would (गा)
wood (लकड़ी)
one (एक)
won (जीता)
hole (छेद)
whole (सारा)
hair (बाल)
hare (खरगोश)
not (नहीं)
knot (गांठ)
steel (स्टील)
steal (चोरी करना)
blue (नीला)
blew (हवा का चलना)
some (कुछ)
sum (राशि/प्रश्न)
(D) Fill in the blanks with correct option:
1. We ………………… with our eyes. (sea/see)
2. There is a ………………… in his pocket. (whole/hole)
3. ………………. is my favorite fruit. (Pear/Pair)
4. She has long ………………… . (hair/here)
5. I have ………………… books in my bag. (ateleight)
6. ……………… is a wild animal. (Dear/Deer)
7. I do not like rice ……………. (flour/flower)
8. My friend has ………………… the match. (one/won)
9. Aman has ………………… white balls. (two/to)
10. I do not like to eat ……… (meet/meat)
Answer:
1. see
2. hole
3. Pear
4. hair
5. eight
6. Deer
7. flour
8. won
9. two
10. meat.

(E) Use the following pairs of words in sentences:
1. write : He writes poems.
right : This is my right hand.
2. no. : I have no money.
know : I know your brother.
3. check : Please check my account.
cheque : This is your cheque book.
4. buye : We want to buy a new car.
bye : Good bye, friends.
5. son : Your son is a good guy.
sun : The sun is very hot today.
III. Language Corner
(A) Look at the following chart displaying different forms of verbs:
(Verb at its Forms)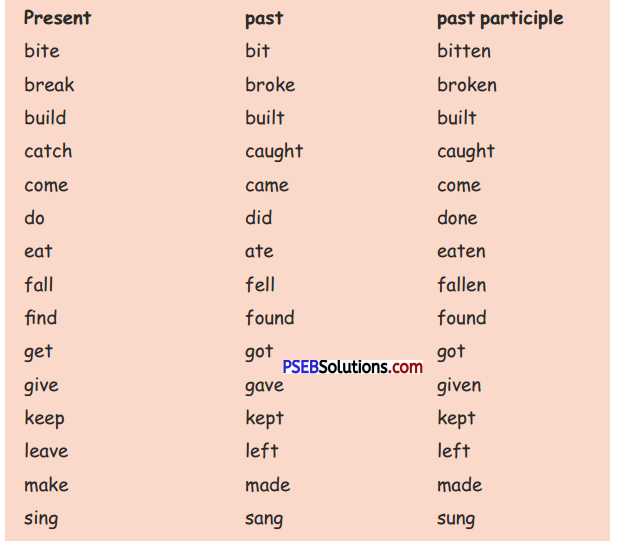 (B) Conjugate the following:


Answer:


(C) Fill in the blanks with is/am/are:
1. There ……………. nó milk in the jug.
2. Boys ………………… hungry.
3. I ………………… waiting for a bus.
4. Chandigarh ……………….. a clean city.
5. She ……………….. angry with me.
6. They ………………… very busy on Monday.
7. I ……………….. trying to solve this problem.
8. My friends ………………… very helpful.
Answer:
1. is
2. are
3. am
4. is
5. is
6. are
7. am
8. are.
(D) Make sentences from the grid. Write any five sentences in the given space of your notebook: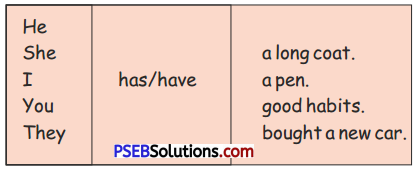 1. He has a long coat.
2. She has a pen.
3. I have a long coat.
4. You have good habits.
5. They have bought a new car.
नोट-विद्यार्थी इस pattern के अन्य वाक्य स्वयं बनाने का अभ्यास करें।
IV. Listen, Speak And Enjoy
Conversation
Father is going to the market. The child asks him to bring fruits.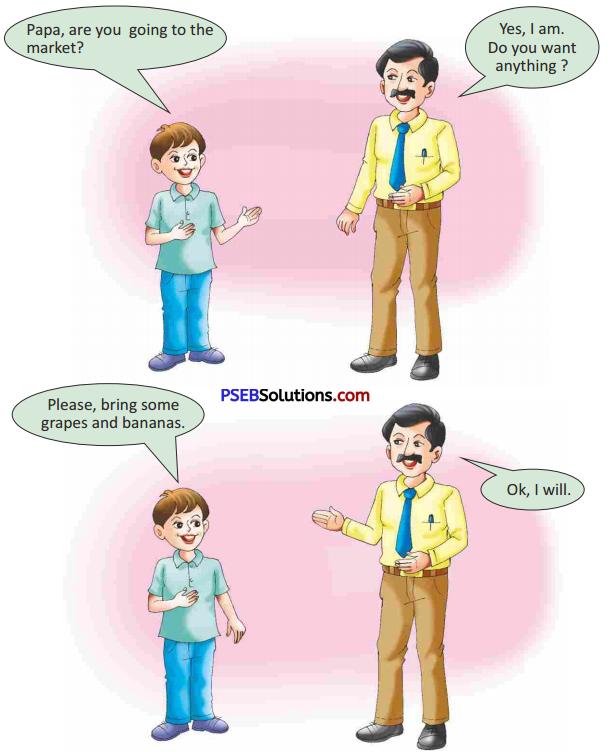 नोट-विद्यार्थी स्वयं अभ्यास करें। अपने अध्यापक की सहायता लें।

V. LET'S READ
Read aloud the following words:
image – इमेज
agency – एजिं
damage – डेमेज
manage – मैनेज.
ageing – एजिंग
courage – करेंज
village – विलेज
agent – एजेंट
manage – मैनेज
नोट-विद्यार्थी स्वयं अभ्यास करें।
VI. Let's Write
Complete the following sentences:
MY GRANDMOTHER
caring, love, stories, very, sixty-five
1. My grandmother's name is ………………
2. She is ……………………. years old:
3. She tells me ………………………. .
4. She is very …………….
5. I ……….. her ………………….. much.
Answer:
1. xyz
2. sixty-five
3. stories
4. caring
5. love, very.
VII. Value I Learnt
Always consider the likes and dislikes of your grandparents and respect them.
अपने दादा-दादी/नाना-नानी की पसंद तथा नापसंद का सदा ध्यान रखें और उनका आदर करें।
VIII. Activity
(A) Write the likes and dislikes of your grandmother.
Likes:
soft fruits
halwa
holy books
dalia
Dislikes:
hard fruits
red chilli
icy drinks
dancing
(B) Prepare flash cards of months. Students will arrange them in a sequence.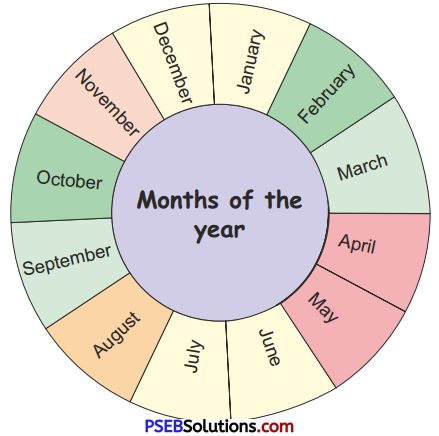 नोट-विद्यार्थी स्वयं करें।
Hints : January, February ……………… November, December.
(C) In which month does your birthday fall ?
Write date, month and year of your birth on the cake. Draw number of candles according to your age and colour the picture.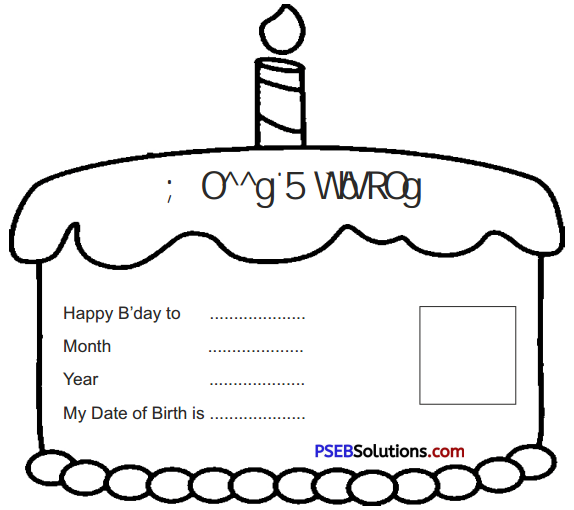 नोट-विद्यार्थी स्वयं करें।
Pre-Reading
Question 1.
Do you live with your grandparents?
Answer:
Yes, I do.
Question 2.
Do you love your grandparents?
Answer:
No doubt, I love them deeply.

Question 3.
Why do you love them?
Answer:
They are my elders and very lovable.
Word-Meanings
| | | |
| --- | --- | --- |
| Word/Phrase | Meaning in English | Meaning in Hindi |
| Giant | huge | बहुत बड़े |
| Swift | fast | तेज़ |
| Spy | notice; see | देखना |
| Alien | foreigner | विदेशी |
| Caress | gentle touch | लाड-प्यार |
| Wrinkled | old, saggy skin | वृद्ध/झुरियों वाली त्वचा |
| Kin | relative | रिश्तेदार |
| Forever | always | हमेशा |
| Sigh | take a deep breath | गहरी सांस लेना |
| Alike | similar | एक जैसा |
| Hug | embrace | गले लगाना |
Child and Grandma Summary in Hindi
बच्चा और उसकी दादी माँ/नानी माँ इस व्यस्त संसार में अकेले महसूस करते हैं। परंतु उनकी यह भावना और सोच उनमें आपसी निकटता और प्रेम को गहरा कर देते हैं।
कविता में बच्चा कहता है कि वह इस विशाल संसार में तेजी से चलते बड़े-बड़े (व्यस्क) लोगों के बीच एक छोटा सा बच्चा है। आकाश में भी उसे मशीनें (हवाई जहाज़ आदि) दिखाई देती हैं। उसे लगता है कि वे बिना आंखों वाले पक्षी हैं।

इस विशाल परंतु विदेशी (अपनेपन से खाली) संसार में रहते हुए वे आहे भर-भर कर जीते हैं। यह अकेलापन उनमें प्रेम को बढ़ाता है। उसे अपनी दादी में अपनापन झलकता है और वह उसके झुरियों वाले चेहरे से लाड करने लगता है। वे एक-दूसरे को गले लगा कर खुश होते हैं। बच्चा चाहता है कि संसार हमेशा इसी तरह उसे अपनी दादी के पास ही रहने दे।