Punjab State Board PSEB 12th Class English Book Solutions English Grammar Translation Exercise Questions and Answers, Notes.
PSEB 12th Class English Grammar Translation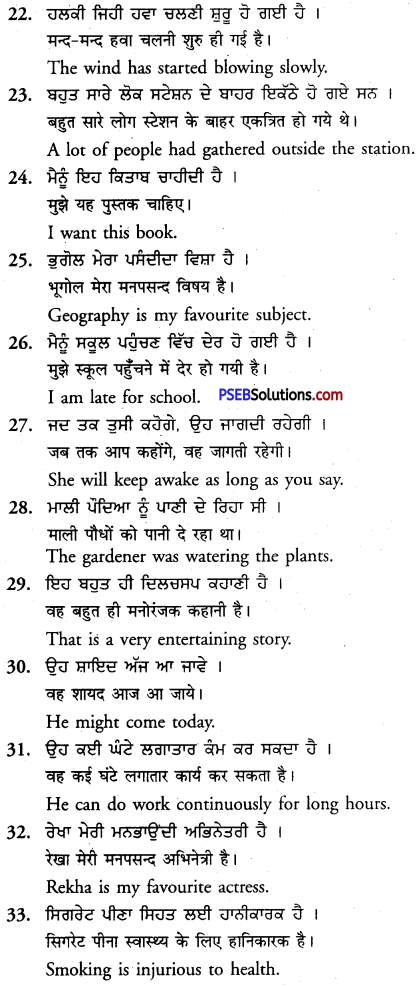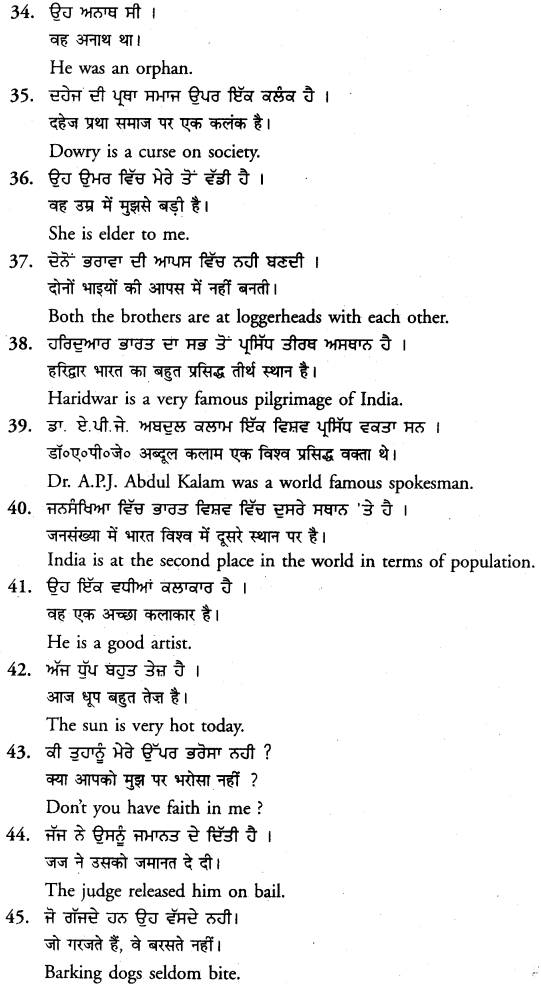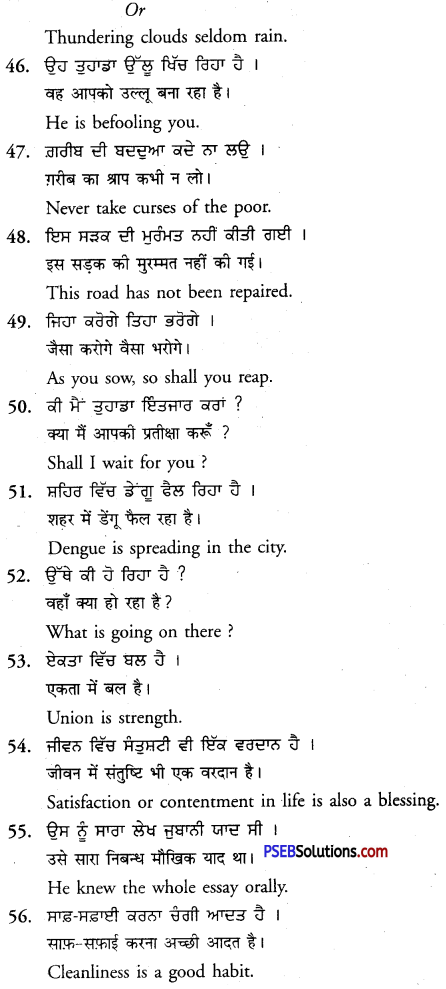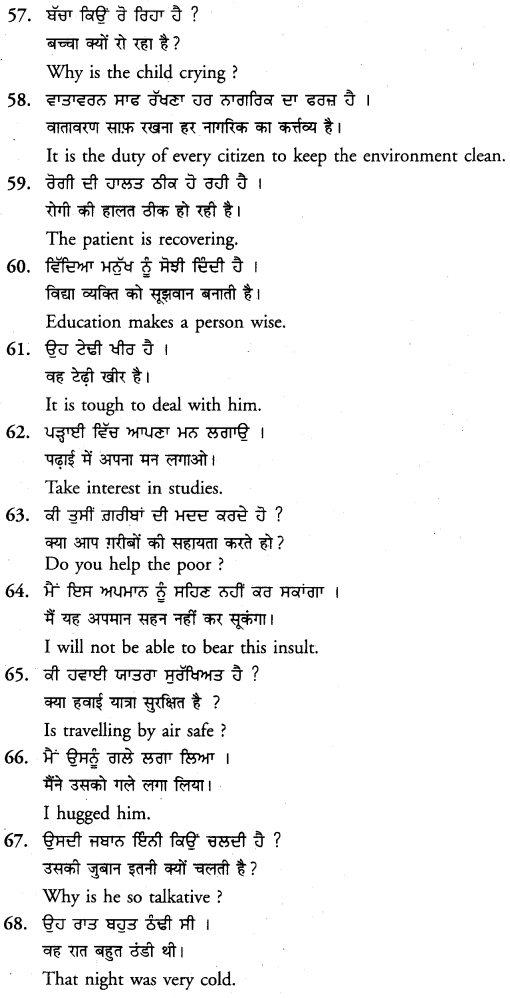 Some Common Proverbs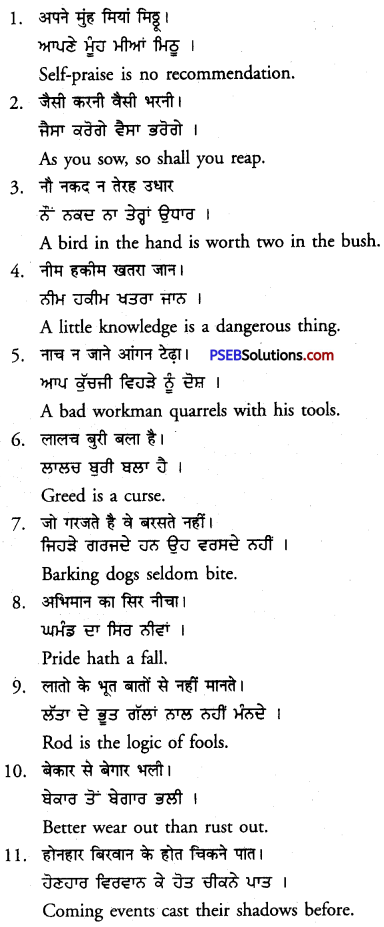 Exercise 1 (Solved)
Translate the following sentences into English: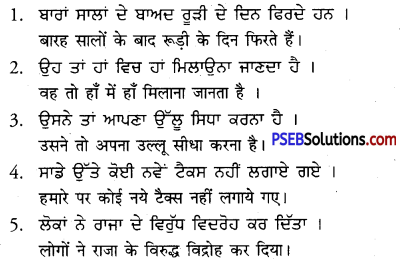 Answer:
1. Every dog has his day.
2. He is completely a yes-man.
3. He has his own axe to grind.
4. No new taxes have been imposed upon us.
5. People (or subjects) have revolted against the king.
Exercise 2 (Solved)
Translate the following sentences into English: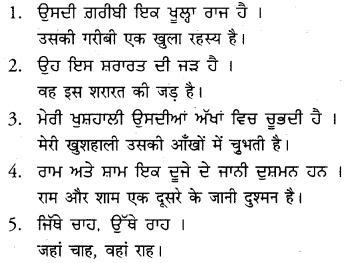 Answer:
1. His poverty is an open secret.
2. He is at the root of this mischief.
3. My prosperity. is an eye-sore to him.
4. Ram and Sham are sworn enemies.
5. Where there is a will, there is a way.
Exercise 1 (For Practice)
Translate the following sentences into Hindi/Punjabi:
1. He works hard from dawn to dusk.
2. Most of our politicians are very corrupt.
3. Selfishness is the order of the day.
4. You must reduce your flab1.
5. Spoken English is gaining importance these days.
6. Spoken English does not mean repeating in the parrot-fashion some crammed sentences.
7. Those who speak English fluently get easily noticed by others.
8. He is the only bread-earner² of the family.
9. Shaleenta is a very good Kathak dancer.
10. He is working as an executive³ in a bank.
11. My colleague in my college is a very good singer.
12. I feel pleased to meet you.
13. What is the nature of your job?
Hints:
1. ਸੀਟਾਧਾ, ਮੋਟਾਪਾ 2. ਹੇਜ਼ੀ ਸਾਰੇ ਭਾਗ, ਰੋਜ਼ੀ ਕਮਾਉਣ ਵਾਲਾ, 3. ਜਿਵੇਕ, ਨਿਦੇਸ਼ਕ ।
Note : Some of the sentences are very easy. It should not be difficult for many of you to translate them in simple Hindi and Punjabi. Hereafter we shall give a few more exercises with meanings in Hindi and Punjabi for your convenience.
Exercise 2 (For Practice)
Translate the following sentences into Hindi/Punjabi:
1. Gandhiji is known for his successful efforts1 to liberate2 India.
2. The lady is very mean in money matters3.
3. She did not allow her husband to spend much on himself.
4. This story tells us about the greed of well-to-do4 people.
5. Guru Gobind Singh was a great son of India who led India to sublime5 heights of glory6.
6. Why is this enormous7 increase in population taking place ?
7. Drug-addiction8 is a major social evil of modern times.
8. Nations become great by self-confidence9.
9. Mankind has undoubtedly progressed since medieval10 times.
10. Vidyasagar was a very generous11 and charitable12 man.
Hints:


Exercise 3 (For Practice)
Translate the following sentences into Hindi/Punjabi:
1. Everyone knows the events1 of Buddha's life.
2. Newton lived to a ripe age2 and earned a great renown3.
3. Books are a wonderful blessing4.
4. Ishwara Chandra realised that he must go to England in oder to complete his scientific education.
5. Guru Teg Bahadur was the youngest son of Guru Hargobind Sahib.
6. Science is an angel5 in peace but a devil6 in war.
7. Wars of today are more dreadful7 than those of yesterday.
8. He stumbled8 at every step.
9. Silence prevailed9 all round the hospital.
10. It has been raining continuously10 for three hours.
11. It has been drizzling11 for an hour.
Hints:



Exercise 4 (For Practice)
Translate the following sentences into Hindi/Punjabi:
1. This story is a typical example1 of the storywriter's work as a story.
2. He failed to find a man before whom he could express the feelings of his heart2.
3. He wants to share his grief3 with somebody.
4. This story points out4 the truth that poverty dehumanises5 a man.
5. I am bereft6 of money at this time.
6. I want to know your opinion about etiquette7.
7. The teacher punished the students for being noisy in the class.
8. Some shopkeepers fleeces8 their customers.
9. A spendthrift lacks balance and perspective9.
10. He was reluctant10 to take the examination.
Hints:


Exercise 5 (For Practice)
Translate the following sentences into Hindi/Punjabi :
1. I have lost the novel1 that you gave me.
2. She dressed in an elegant2 manner.
3. We eat so that we may live.
4. God's will be done3.
5. Prevention is better than cure4.
6. A bird in the hand is worth two in the bush5.
7. He is on the wrong side of sixty6.
8. We should not look down upon7 the poor.
9. I am at a loss to know8 what to do.
Hints:


Exercise 6 (For Practice)
Translate the following sentences into Hindi/Punjabi:
1. Trees give shade for the benefit of others.
2. Machines have become the slaves1 of modern man.
3. A child should be trained to love the reading of books.
4. Politicians worship the rising sun2.
5. Our body is like a machine.
6. Newton was a very kind-hearted3 man.
7. He never lost his temper4.
8. One should never read anybody's letter without permission.
9. Children explode crackers on Diwali.
10. The life of modern cities is tiresome5.
Hints: