Punjab State Board PSEB 10th Class Science Book Solutions Chapter 8 How do Organisms Reproduce? Textbook Exercise Questions and Answers.
PSEB Solutions for Class 10 Science Chapter 8 How do Organisms Reproduce?
PSEB 10th Class Science Guide How do Organisms Reproduce? Textbook Questions and Answers
Question 1.
Asexual reproduction takes place through budding in :
(a) Amoeba
(b) Yeast
(c) Plasmodium
(d) Leishmania.
Answer:
(b) Yeast.
Question 2.
Which of the following is not a part of the female reproductive system in human beings?
(a) Ovary
(b) Uterus
(c) Vas deferens
(d) Fallopian tube
Answer:
(c) Vas deferens.
Question 3.
The anther contains :
(a) Sepals
(b) Ovules
(c) Carpel
(d) Pollen Grains
Answer:
(d) Pollen grains.
Question 4.
What are advantages of sexual reproduction over asexual reproduction?
Answer:
Advantages of sexual reproduction:
Sexual reproduction has a dual significance for the species.
It results in multiplication and perpetuation of the species.
It contributes to evolution of the species by introducing variation in a population much more rapidly than asexual reproduction.
Question 5.
What are the functions performed by the testis in human beings?
Answer:
Functions of testis
Produce male gametes, called sperms.
Leydig's cells secrete male sex hormone namely testosterone into blood.

Question 6.
Why does menstruation occur?
Answer:
During menstruation, broken down endometrium is passed out as menstrual flow along with unfertilized egg (ovum).
Question 7.
Draw a labelled diagram of Vertical section of flower.
Answer:
Vertical section of flower


V.S of Folwer
Question 8.
Wliat are different methods of contraception?
Answer:
The various methods of birth control are :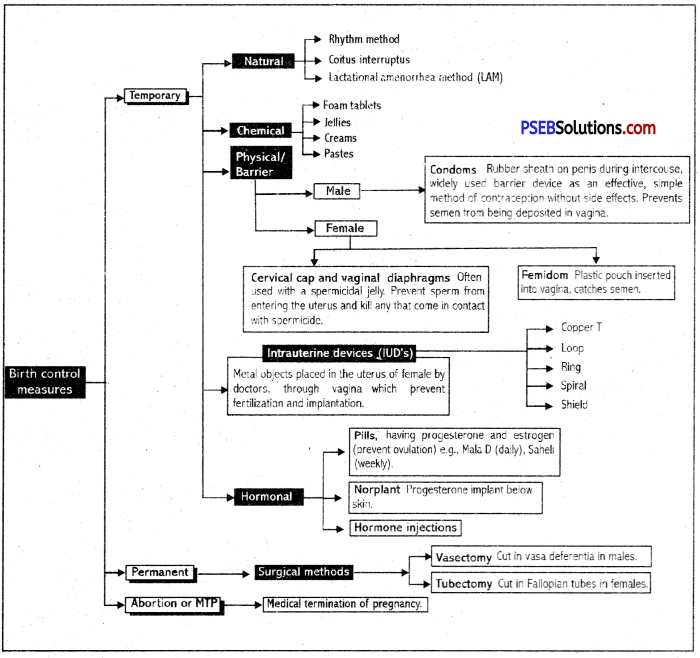 Flowchart: Brief account on birth control measures
Question 9.
How are modes of reproduction different in unicellular and multicellular organisms?
Answer:
Unicellular organisms mostly reproduce by asexual methods except for a few such as Paramecium, Eimeria, these organisms reproduce by sexual methods also. The multicellular organisms have more complex body. They reproduce both by asexual and sexual methods. But sexual reproduction is the more common method.
Question 10.
How does reproduction help in providing stability to populations of species?
Answer:
Reproduction is the process by which organisms increase their populations. The rate of births and deaths in a given population determine its size.
Question 11.
What could be the reasons for adopting contraceptive methods?
Answer:
To control population.
For family planning.
For good health of women and children.
Science Guide for Class 10 PSEB How do Organisms Reproduce? InText Questions and Answers
Question 1.
What is the importance of DNA copying in reproduction?
Answer:
DNA copying is called DNA replication. In this process one copy each of replicated DNA will be passed on two daughter cells. Each cell formed will have its own cellular apparatus to control the activities of the daughter cells.
It maintains the body designs and features in different generations of the species.
Variations may be introduced during copying of DNA. This inbuilt tendency for variation during reproduction forms the basis of evolution.
Question 2.
Why is variation beneficial to the species but not necessarily for the individuals?
Answer:
Variations present in some populations would enable them to survive. In case of changing environmental condition such as global warming. Thus it is useful for survival of species over time.

Question 3.
How does binary fission differ from multiple fission?
Answer:
Differences between binary fission and multiple fission
| | |
| --- | --- |
| Binary fission | Multiple fission |
| 1. Parent cell divides into two daughter cell. | 1. Parent cell divides into many daughter cells. |
| 2. It takes place during favourable conditions. | 2. It takes place during unfavourable conditions. |
| 3. Residual cytoplasm is left. | 3. Nothing is left with parent. |
| 4. Cytoplasm divides after every nuclear division. | 4. Cytoplasm does not divide after every nuclear division. |
Question 4.
How will an organism be benefited if it reproduces by spores?
Answer:
Spores are covered by thick walls, that protect them until they come into contact with another substratum on which they can grow.
They are produced in large numbers.
Question 5.
Can you think of reasons why more complex organisms cannot give rise to new individuals through regeneration?
Answer:
Regeneration is not reproduction because most organism would not depend on being cut up.
It is not certain that cut up portion will be able to survive and give rise to a new individual.
Question 6.
Why is vegetative propagation practised for growing some types of plants?
Answer:
Advantages of vegetative propagation
It is usually a means of propagating such plants which do not produce viable seeds.
It is rapid method of producing young ones.
It helps in retaining useful characters from generation to generation.
Question 7.
Why is DNA copying an essential part of the process of reproduction?
Answer:
DNA copying provides cellular apparatus in the daughter cells.
DNA in daughter cells will be able to control the functioning of daughter cells.
DNA copies will retain the traits.
Question 8.
How is the process of pollination different from fertilisation?
Answer:
Differences between pollination and fertilization
| | |
| --- | --- |
| Pollination | Fertilization |
| 1. It is the transference of pollen grains from anther to stigma. | 1. It is fusion of a male and a female gamete. |
| 2. An external agent is required like wind, water and animal. | 2. It does not require any external agent. |
Question 9.
What is the role of seminal vesicles and prostate gland?
Answer:
Role of seminal vesicles. These glands secrete viscous secretions, which contain fructose and prostaglandins. The fructose is the source of energy for sperms and prostaglandins stimulate uterine contraction and thus may help the sperm to move towards the female's oviduct.
Role of prostate gland. It secretes an alkaline milky fluid that aid in sperm motality. The fluid contains small amount of citric acid, some lipids and a few enzymes. It also contains bicarbonate ions which give the semen its alkaline pH.
Question 10.
What are the changes seen in girls at the time of puberty?
Answer:
Changes at the time of puberty: These changes occur under the influence of hormones FSH (Follicle stimulating hormone) and estrogen.
Growth of breast and external genitalia.
Darkening of nipple skin.
Broadening of pelvis.
Growth of pubic and axillary hair.
Increase in subcutaneous fat.
Initiation of menstruation and ovulation.
Question 11.
How does embryo get nourishment inside the mother's body?
Answer:
Embryo gets nourishment through placenta. Placenta is a disc embedded in the wall of uterus. It contains villi on the embryo side of tissue. On the mother side are blood spaces which surround villi. Placenta serves to bring the foetal and maternal blood close enough to permit exchange of materials between the two. Placenta also acts as endocrine gland.

Question 12.
If a woman is using a copper-T, will it help her in protecting sexually transmitted diseases?
Answer:
Copper-T prevents fertilization but the chances of infection persist. Thus it will not help her in protecting from sexually transmitted diseases.