Punjab State Board PSEB 12th Class English Book Solutions English E-Mail Writing Exercise Questions and Answers, Notes.
PSEB 12th Class English E-Mail Writing
The popular name of E-mail is 'electronic mail'. It involves sending message via telecommunication links. If two computer terminals, however distant from each other are connected to network, it is possible to send messages from one to the other. The message is typed on a computer screen at one end and is conveyed to the other end through electric impulses. The person operating the computer terminal at the receiving end is alerted by a signal that a message or mail, meant for him is in the electronic mail box, or he can occasionally see his mail box to check for any incoming mail. Then he can get it flashed on to a screen immediately or keep it stored and attend to it at leisure.

If the computers have fax, telephone or telex facilities attached to them, E-mail can be used even to transmit telephonic message or to fax important documents.
If we want to Use E-mail all that one needs is an access to a network area, a P.C., a telephone, a modem with its software and the basic knowledge of using this software which is easy to attain. One doesn't have to be a seasoned expert to be able to use E-mail. Nor do we need a separate telephone line for it. Modems are also reasonably priced. Sending message by E-mail is cheap. It is cost-effective. It is cheaper than our registered mail which we send through post offices.
Advantages of E-Mail
1. E-mail has several advantages. It is the quickest means of transmitting messages. Sending messages through ordinary post is just something very slow and rather old fashioned. It is no longer the in-thing. Courier service is also slow. It can rarely do better than overnight delivery. Telephone has its limitations. Other telematic services like telex, fax, communicating word processors etc. are not options to E-mail but complementary services. Most modern E-mail systems allow messages to be delivered through telecom channels.
2. An E-mail message is free from disturbance. One can check one's mail box and receive the message at one's leisure.
3. E-mail does not depend on the availability of the recipient. As long as people keep checking their mail boxes regularly, the communication cycle continues to work properly.
4. E-mail communication saves us from time-zone inconvenience. One can send an E¬mail message whenever one likes to do so. The person at the other end can receive it the next morning when he comes to work.
5. E-mail messages are supposed to be highly confidential and secure. The chances of tampering with them are much fewer than in the case of message conveyed through conventional modes.
The E-mail screen is given below: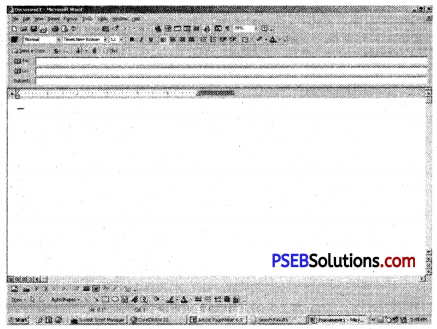 Details necessary for an E-mail
Writing an E-mail message for a friend is just like writing an informal friendly note. If you have to ask a friend to meet you at a restaurant in the evening, we do not have to write an elaborate letter.
1. Send an e-mail message to your friend asking him to meet you at your home.
Answer:


2. Write a message for transmission by E-maii for delivery to a prospective customer.
Answer: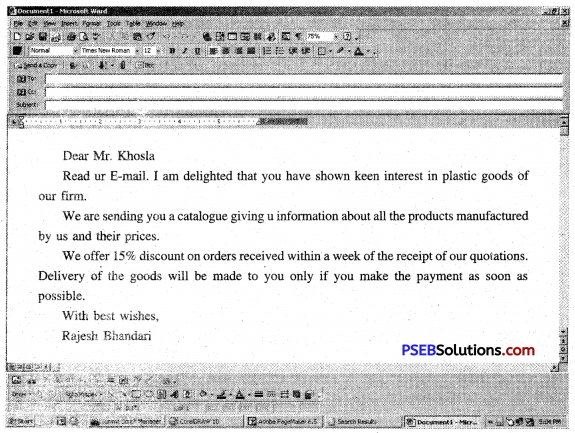 3. Draft a message to be sent by E-mail to your friend Srikesh on the occasion of his grand success in the Higher Secondary Examination.
Answer: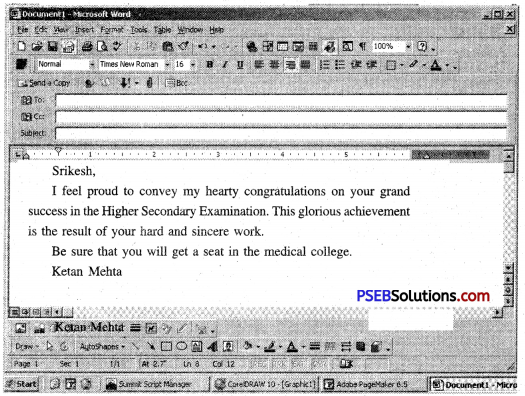 4. Your friend is celebrating his birthday. You are not able to attend it. Send him a message by E-mail.
Answer: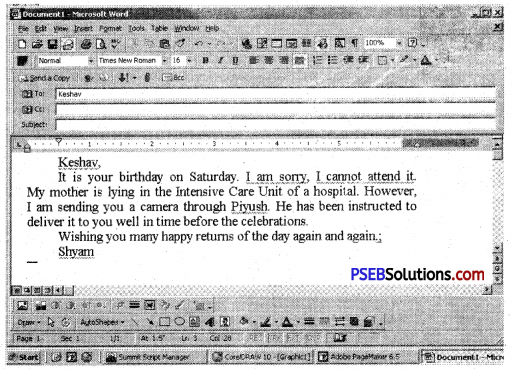 WHEN YOU ARE SENDING E-MAIL MESSAGES TO FRIENDS, YOU HAVE. TO ADOPT A VERY INFORMAL AND INTIMATE STYLE. YOU CAN MAKE USE OF SOME ABBREVIATIONS. BUT ABBREVIATIONS SHOULD NOT BE USED TO SACRIFICE CLARITY.
You can use the following abbreviations:
u for you
2 for two
ur for your
cud for could
gud for good
I'm 4 u = I am for you etc.
But clarity must not be lost sight of.

5. Send an E-mail message to your friend who is staying abroad. Ask him when he plans to come to India. Tell him to be here before Dewali.
Answer:
E-mail form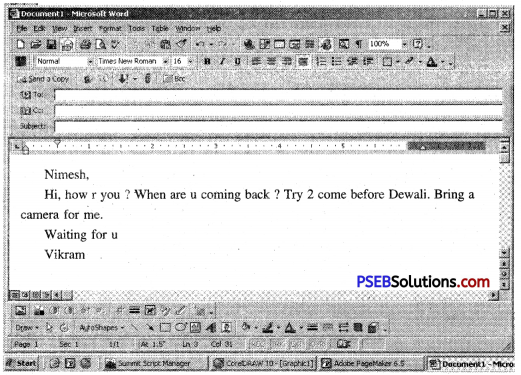 6. You are the secretary of the Drama Club in your school. You have to arrange a meeting at 5 p m. tomorrow to discuss preparation and rehearsal for the annual inter-school drama festival. Send an E-mail to all the members apprising them about the meeting.
Answer: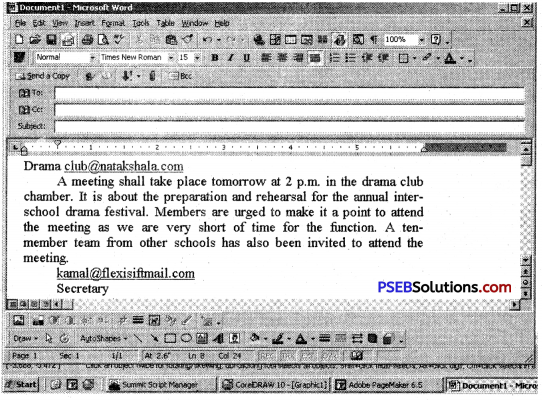 7. You have come to know that your brother has taken to the habit of smoking. Write a message for transmission by e-mail giving him a warning.
Answer: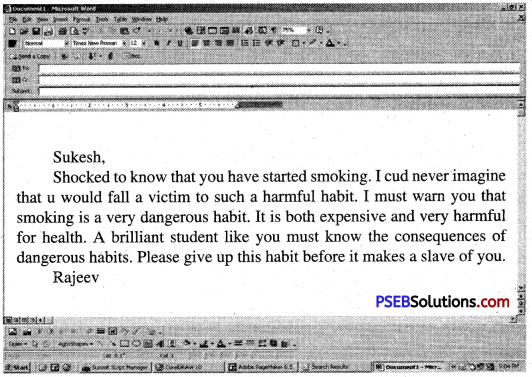 8. Your father is worried because of your neglect of studies. Send a message by e-mail assuring him not to worry about your neglect of studies. Tell him that you would do everything to make up your deficiency.
Answer: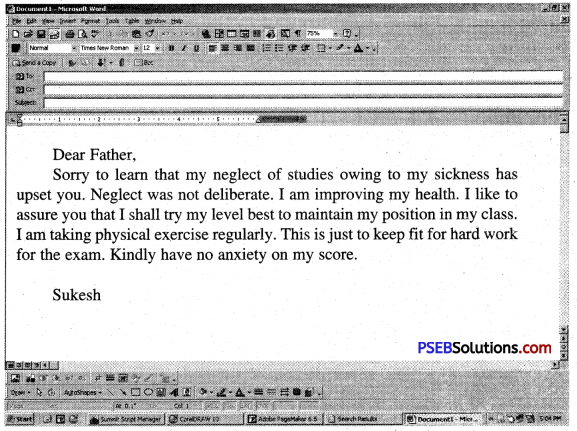 9. Write a note for transmission by e-mail from a mother to a daughter. Note that a message for transmission by e-mail does not have to be a full-length letter.
Answer: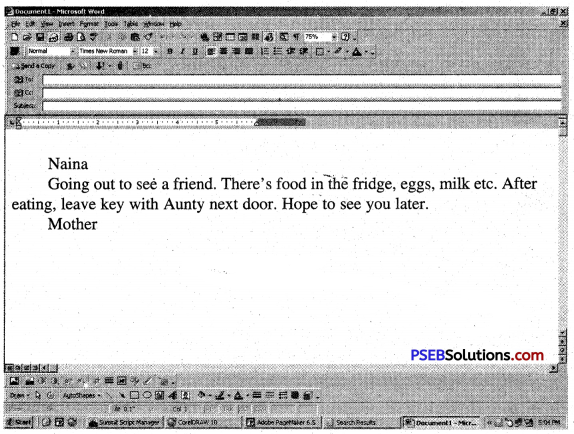 10. Write a note for transmission by e-mail to your mother informing her that you will arrive home late and miss the evening meal.
Answer: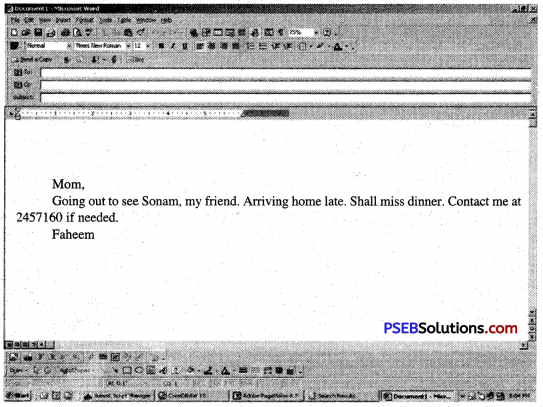 11. Write an e-mail to your friend inviting him to attend the tea party arranged to celebrate your birthday.
Answer: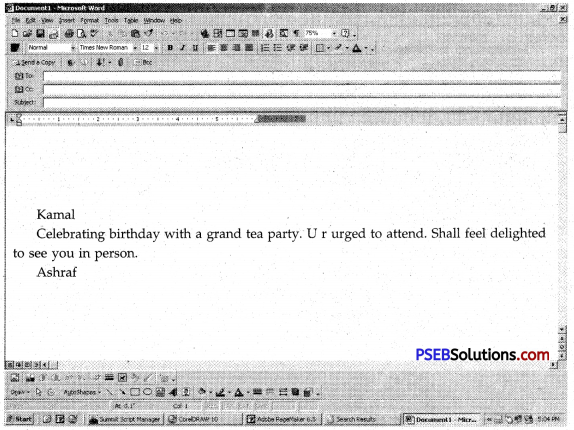 12. Write an e-mail to your cousin, who lives in Agra, informing that you along with three of your friends are visiting Agra on 7th of June, 16, requesting him/her to get two rooms booked in some good hotel near his/her residence. Your stay there is only for two nights.
Answer: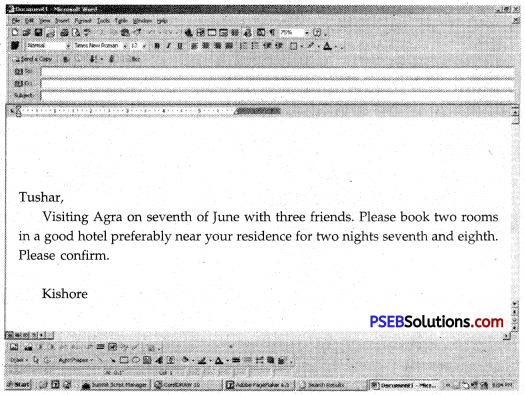 13. Write an e-mail to your father, who is posted in a far away place, asking him about his whereabouts. You are worried about him as someone coming from that place has told you that your father is not feeling well Ask him if he has consulted the doctor or not.
Answer: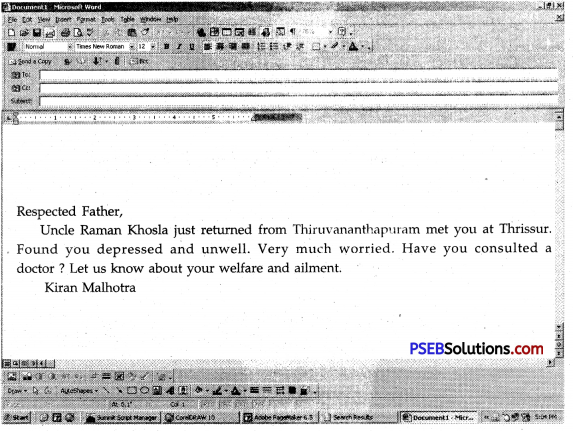 14. Write an e-mail to your friend informing him that you are visiting him next month.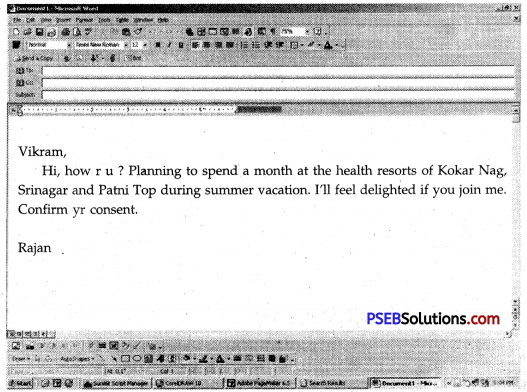 15. Write an e-mail to your friend informing him that you are visiting him next month.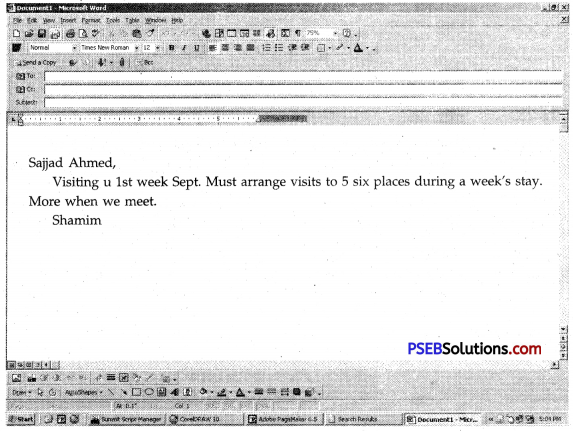 16. Your friend has invited you to attend the marriage of his/her sister at Chandigarh. Write an e-mail to him/her describing your journey plan and your probable arrival date and time.
Answer: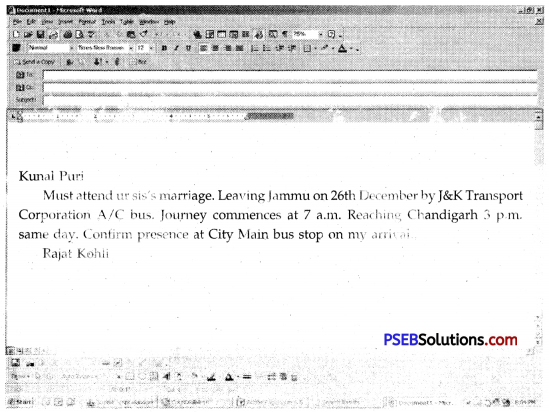 Exercise For Practice
1. Write an e-mail to your friend who is abroad asking when he is coming back and how so that you receive him on his return.
2. Write an e-mail to your friend expressing your willingness to attend his marriage ceremony.
3. Write an e-mail to, your friend asking him to be present at your birthday party being held at your residence. Inform him about the date and time of the function.
4. Write an e-mail to your aunt, who has been ill, asking about her health and wishing her better health.
5. Write an e-mail to your friend who is in the U.S.A. congratulating him on his joining a medical college there. Use short forms where possible.
6. Write an e-mail to your teacher at school thanking him/her for all the help he/she has given to you to get such good marks in the Board exams.